Continued investment of £200m over four years has given rise to a number of world-class buildings, including the award-winning EEE building, interdisciplinary Mountbatten complex and the new Life Sciences Building, which opened in September 2010. These new facilities are cementing the University's status as one of the best learning environments in the UK.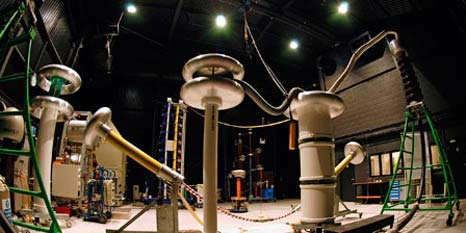 At Southampton we are proud of our unrivalled Electronics and Computer Science (ECS) facilities with state-of-the-art, industry-standard equipment housed in superb laboratories. As a postgraduate you will benefit from the world-class research facilities, educational resources and amenities that make Southampton one of the best learning environments in the UK.
Our Mountbatten Building houses one of the world's leading cleanroom laboratory complexes for materials and device research in diverse fields ranging from electronics through photonics to bionanotechnology.
The Tony Davies High Voltage Laboratory is one of only a handful of similar facilities in Europe. It contains a full range of equipment to support our research and consultancy in high voltage engineering.
Key facts
The University provides a wealth of social, arts and leisure facilities for students.
Off campus, you will find all the transport, shopping and leisure facilities you would expect from a multicultural city with a population of over 200,000 people.
Wireless and networked high-speed internet access is widely available across all campuses and in all five libraries.
Other University of Southampton sites