Bradley McLaughlin MEng Electronic Engineering, 2020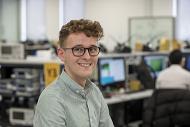 I chose to study in Southampton because it had a warm community feel, excellent facilities, and is highly ranked in both the UK and Worldwide league tables.
Upon starting at Southampton, I felt a strong sense of belonging and safety, and no longer felt like an individual coming from elsewhere
Initially, it was difficult to know what exactly was expected of me as an Electronics student and how much "free time" I'd have available. I knew as a subject, it would be difficult, but was unsure quite how difficult.  Although it is an intensive course, everyone alongside you is in the same situation. Within our facilities, they also have chill-out areas, where you can literally chat and eat pizza. Though it may sound like something small, it's a great way to break up the day.
Upon starting at Southampton, I felt a strong sense of belonging and safety, and no longer felt like an individual coming from elsewhere. All students were encouraged to get involved with societies, and there are lots of opportunities to get try out different clubs at the start of the year. Societies are a great way to meet new people and take a break from your studies with people from across the university!
 The Facilities at Southampton
The facilities here are outstanding. Our main campus library (out of the five spread across all the campuses) is five stories high and our electronics labs are state of the art with all the kit and technical support we could ever need – and more. The students' union is always welcoming ideas from students to improve the facilities further, providing a great way to have your voice heard.
 My Southampton Highlights
Design projects were always great fun and a chance to get hands on with the things we had learnt. However, the highlight of being at Southampton has got to be the yearly (or twice-yearly if you're extra keen) ski trips. These trips are a great week-long holiday with hundreds of Southampton students, with lots of skiing and après-skiing!
 How my time at Southampton helped me grow as a person
Being a student at Southampton really prepared me for the open world of work, enhancing my interpersonal skills, confidence, and work ethic, along with obviously massively extending my subject knowledge! Having worked with an engineering firm over summer, I felt so comfortable and undaunted by the 'real world of engineering' and feel that Southampton  provided me the tools to feel this way.
 What I enjoyed most about my course
I enjoyed the ability to put into practise the theory I learnt in lectures. There is a strong drive at Southampton on not only learning, but also doing; providing the ability to really put the course content towards a real-world application. I was impressed by the flexibility in the major projects throughout my degree, allowing me to tailor the tasks to my expertise and enjoyment.
 Studying outside of my core subject
From the third year onwards I was able to choose optional modules from outside my core subject area.  This means that I had the opportunity to refresh my Spanish skills (after studying it as a GCSE), and I also studied a module on finding other life-forms in space! It provided an excellent chance to broaden my skillset, as well as to study something I found interesting, but may not have otherwise had the chance to study within my degree.
 University Accommodation
I stayed in halls of accommodation in first year. My flat really got on from day one, and I continued to live with many of them beyond first year. It's great to spend time with others studying different courses, and with different interests and backgrounds. If this is a worry for you, don't let it be, the halls committee provide many social events for students to meet new like-minded people.
 Southampton City
The city has a vast range of things to do, from brilliant nights out to sports grounds, escape rooms, restaurants, and bars. You can reach pretty much anywhere you need to go by bus, and some bus routes even run overnight. Basically, there's always something to do here and I rarely found myself stuck for things to do.