We encourage our students to begin thinking about their future careers from an early stage in their degree programme. To increase their knowledge and experience of the workplace, the majority of our students will take up summer internships throughout their degree.
These opportunities, in addition to graduate jobs, are advertised on our Careers Hub website.  We also run our own annual Careers Fair in February each year, and we support a full programme of employer visits to ECS, including recruitment presentations and workshops.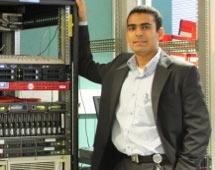 Raj Shah came to the University of Southampton's School of Electronics and Computer Science because it was the best in the country. It beat the University of Cambridge in the league tables in Electrical and Electronic Engineering and ranks at number one.
Indian-born Raj is also a first-class student who managed to get five As at A-level which won him a scholarship to ECS.
Growing up in Thailand, Raj had a big interest in the design of cars, which led him to choose Electromechanical Engineering.
When it came to choosing a company for his industrial placement year, he had hoped to work at Rolls Royce, Jaguar or Land Rover, and was disappointed initially when he did not manage to secure a placement.
When he came across an advert for a placement at IBM through the Graduate Recruitment Bureau, he sent in an application and was offered a placement role as a laboratory technician within the customer support department for IBM Cognos Software.
Now, almost six months after he completed his 12-month placement, Raj is very glad that he listened to this advice.
He loved his placement. He started in Bracknell at Cognos, a company acquired by IBM where he spent six months. He then spent the second six months at IBM Bedfont in Feltham.
At Cognos, he was a laboratory technician who created test environments for the customer analysts across Europe, the Middle East and Africa (EMEA).
The placement also gave Raj an opportunity to develop some computer networking, virtualisation and programming skills.
A highlight of his year was when he met Stephen Leonard, General Manager of IBM UK and Ireland.
Raj's experience at IBM gave him a completely new perspective on how companies assess people's skills during the recruitment process; he learned that rather than basing assessments on individual disciplines, they look at analytical and theoretical skills.
Raj would like to work at IBM once he has finished his degree and was encouraged to apply, but knows that he will not automatically get a job there just because he completed a work placement with them.
His long-term plan now is to work in consultancy with a company like IBM or McKinsey and in an ideal world where time and money is no object, he would be a Formula One driver.
In the meantime, he is back in his third year at university and working on a new algorithm to reduce downtime for assembly line robots which perform the same task repetitively.
Once he finishes this year, he will review his career plan.