Amal Elhawrani BEng Electromechanical Engineering, 2015
Electrical Engineer at Transport for London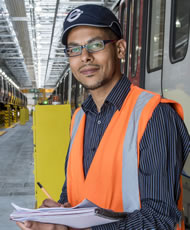 "I was attracted to studying at the University of Southampton because it has a world class reputation but offered fantastic flexibility to me as a mature student.
Graduate employers are keen to employ ECS students because it has a worldwide reputation for high calibre students that get a good mix of practical, design and project work
Structured environment
"I knew I wanted to do engineering, but I didn't have Maths A Level so I worked with the engineering staff at Southampton to do some pre-testing and then applied to do a foundation year, which gave me all the maths and engineering basics to get me to beyond A level standard in a really structured way. The foundation year opened up the opportunity to do any of the fantastic range of engineering degrees on offer at Southampton and that flexibility is what really appealed to me.
"The strength of my course was the balance between design and practical work. The facilities are state of the art and the lecturers are highly published leading researchers, so you are learning from the best in the world with the most up to date knowledge and techniques. The reputation for being world class, and to be able to say I was part of that, was really important to me.
"The projects on my course were very exciting. In our group project we made a Line Follower robot that would follow along a track. This is a competition that has been running not just within the University but worldwide for a number of years, so we were all very competitive with each other to try and beat the previous students' records.
Project work
"I chose to do my final year individual project in the High Voltage Lab as it replicated being in industry. Very few universities have a high voltage lab of this standard, in fact the facilities are so good they are also used by external companies so it was an exceptional opportunity. I did some very challenging experiments testing dielectrics with potentially dangerous voltages but with the security of excellent supervision, support and facilities. It was a great opportunity to experience this environment as a student and really prepared me for working in industry.
"I would definitely recommend the engineering degrees at ECS as the facilities, tuition and environment are among the best in the world. ECS is a truly cosmopolitan department which reflects its internationally renowned reputation and prepares you for the scope and demands of the 'real world'.
"There are lots of opportunities to find out about industry throughout your degree. The Careers Hub offers all students a chance to meet with leading engineering companies who come on site to discuss potential careers. You can also find out about summer placements and scholarships on offer too, for example the Institution of Engineering and Technology Power Academy scholarship programme, where you can network with companies such as Rolls Royce, National Grid and London Underground that offer scholarships every summer. The lecturers have professional links with industry and they can help you establish real opportunities, connections and experience.
Employment appeal
"Graduate employers are keen to employ ECS students because it has a worldwide reputation for high calibre students that get a good mix of practical, design and project work. Combined with industry experience and real world opportunities, ECS gives you a really good head-start in your career and Southampton graduates go on to work for some of the best companies worldwide.
"My long term ambition is to become a Chartered Engineer. Through my group and individual projects, Southampton has enabled me to fulfil some of the competencies I will need, so I have already made a good start to this process and am prepared very well for the next steps. My employer, London Underground, will continue to support me as I work towards my Chartered Engineer status."