Anna Buckley MEng Aerospace Electronic Engineering, second year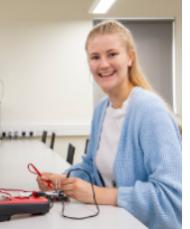 How did you become part of the UK Electronic Skills Foundation (UKESF) scheme?
I first learnt about the UKESF during my visit to an open day at Southampton. There is a high success rate of Southampton students who have achieved a scholarship with the UKESF. I received a lot of support from the University during my application to the scheme, including being sent previous successful applications and having a talk about interview tips from an engineer working at one of the sponsor companies. I believe this greatly contributed to my successful application and is the reason why so many Southampton students have received a UKESF scholarship.
The scheme involves a paid summer placement with a sponsor company, a £1,000 bursary, outreach opportunities to promote electronics to school children, and a five-day residential at the beginning of your final year to network with senior engineers and engage in team tasks.
I did my eight-week summer placement at Collins Aerospace where I gained a lot of new technical knowledge and increased my confidence as an engineer. I worked in the power electronics team testing a low voltage DC-DC power supply. I benefited so much from working with different people and learning from their experiences in the aerospace sector. I gained insight into how to properly document test results as well as understanding the programmes that industry use to create simulations to predict test results. This was invaluable as I can now transfer this to my course.
I also enjoyed the outreach part of the scheme as I felt I contributed to getting more young people interested in electronics. I was part of a team who produced educational videos about different electronic components. This would have been fantastic to have when I was at school, so I hope that what I am doing can fuel someone's excitement about electronics.
My eight-week UKESF placement at Collins Aerospace gave me a lot of new technical knowledge and increased my confidence as an engineer. I benefited so much from working with different people and learning from their experiences in the aerospace sector.
How will the UKESF help you in the future?
Applying the concepts I have learnt at University to solving real problems during my placement has been a great way to gain more experience whilst also cementing my knowledge. It has improved my technical understanding, my ability to work with other engineers and will help me with my degree in future years.
The financial support it provides is also very welcome as it gives me the freedom to attend networking events without having to worry about travel costs. It also helps towards the cost of equipment for my personal projects. 
Why did you choose to study at Southampton?
I decided to come to Southampton because of the invaluable connections Electronics and Computer Science (ECS) has with many different companies, giving me opportunities to network with engineers. I really liked being able to study a specific area of electronics from the start of my degree. I chose aerospace because I want to work on the development of electric aircraft when I graduate. 
My course has a large focus on the practical aspects which is helping me fully understand how electronic components and systems perform. Seeing the real-life results gives me a visual aid to understand how they work. 
What is it like studying here?
The campus is right next to The Common which is a great green space to go for a walk between lectures and to relax in. Because the campus is not too close to the city it has a community feel with lots of young people from across the world who are there to learn more about their chosen subject area. 
My lecturers are interested in what they are teaching and this is translated into the lecturers they give, which are engaging.  They want us, as students, to see how the theory is applied to their research and the real-life problems they are trying to solve. 
What are the facilities like?
The Hartley Library and Centenary Building are great spaces to study - they have a lot of desks and rooms you can book out which is very useful when you are working on a group project and need somewhere to get together to discuss progress. 
There are also The Wide Lane Sports Grounds which are a great training facility for sports such as netball, tennis, football, hockey, rugby and many more. 
The ECS Zepler labs are an amazing facility equipped with all the computer hardware and software you will need for your degree and for your own projects. I really like the fact that all the measuring equipment and power supplies are in the middle of two screens, so that when you are working with your lab partner, you can set up what you're measuring together. 
What have been your Southampton highlights?
One of the best experiences I have had is being part of the University tennis team and travelling to other universities such as Cardiff and Exeter to play against their teams. Playing tennis has enabled me to make a lot of friends from all years and degrees. Training is a great way to take your mind off of your course and to improve another skill. 
I have also joined the Southampton University Formula Student Team (SUFST) which will expand my knowledge and enable me to develop my team-working skills. I'm already learning how a high voltage protection circuit works with the inverter and motor. 
How have you grown as a person during your time at Southampton?
Because I am being exposed to new ideas and ways of working, my confidence in my practical ability has greatly increased. I have also attended talks from external companies that have been organised by ECS, and these have broadened my knowledge of electronics and made me more aware of what opportunities are out there when I graduate. 
What are you enjoying most about your course?
As an aerospace electronic engineering student, I have really enjoyed using the flight simulator lab, which allowed me to apply the theory I learnt in the Flight Mechanics module. It helped me gain a practical, real-life understanding of how to control the axes of rotation on a fixed-wing aircraft. 
How was your University accommodation?
During my first year, I stayed at Glen Eyre halls of residence. The number of students living in this complex made me feel very safe and at home, it also meant I had the chance to meet a lot of different people from different backgrounds. During the summer term, I particularly enjoyed the green spaces around the halls where I could happily relax in the evening reading a book or hanging out with friends. I also played on the table tennis tables which were a lot of fun and a stress release from the intensity of my course. 
What is Southampton like?
I like Southampton because it isn't too big and overwhelming and everything you need is within a 15-minute bus journey. The bus interchange is in the centre of campus which means you are well-connected to shops, pubs, clubs and the train station. There are a lot of small venues for music in the city and the marina is a great area to walk to as it is very peaceful and you can enjoy a drink on a restaurant balcony. 
What do you want to do after you graduate?
I plan to work in an aerospace company, applying the technical knowledge I've learnt from my course to solving issues on an aircraft efficiently and safely. With aircraft emissions becoming a growing contributor to global warming, I would like to be a part of developing electric aircraft for regional flights. Integrating electric propulsion systems into aircraft will help with this. 
How will your Southampton experience help you in the future?
Southampton has prepared me to be adaptable, especially this last year during the pandemic which has brought its own uncertainties. This is a really important skill to have when working in an ever- growing field such as electronics.