Duong Nguyen PhD in Computer Science, 2005
Tech Lead for the FX Algorithmic Trading Team at Barclays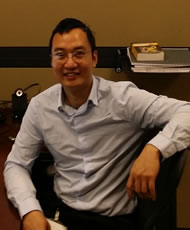 "Towards the end of my undergraduate study, I was introduced to Professor Nick Jennings, one of the leading professors in the AI field, via another former Southampton student.
The degree I obtained from the University of Southampton has always been a great help for me in my roles.
"I decided to apply for a PhD studentship with him and I was very proud to be accepted as a student of the world-famous university, and a member of the top-ranked Computer Science department in the UK. Looking back, my study has proved to be not only enjoyable and challenging, but also an excellent start for my career.
A tight-knit Vietnamese student community
"Southampton ticks all the boxes that I can think of. It is a charming old city with historical landmarks but does possess the vibrant characteristics of much larger city. The location is also perfect since I can easily get to other interesting places in UK and even overseas with the airport located just few miles from where I live. However, the most important gain for me is the close friends I have made during my study here and we still keep in touch. I was lucky that the Vietnamese student community in Southampton is very tight-knit, which was a great help when I first arrived here.
Employment in the financial world
"Upon leaving the university, I joined British Telecom as a researcher for 5 years and then moved on to the financial world. I am now working as a Tech Lead for the FX Algorithmic Trading Team at Barclays. I am responsible for the development and maintenance of part of the infrastructure for a system that is making automated FX currency trades in the amount of billions every day. The degree I obtained from the University of Southampton has always been a great help for me in my roles.
Advice for prospective students
"Southampton is definitely the right choice. You can be assured that the quality of education you get is one the best in UK and possibly the world. Not only that, the local Vietnamese community is vibrant and extremely helpful and friendly. While you are here, do balance study with other activities such as sports, which will make your whole experience much greater."