Leon Brindley MEng Electronic Engineering with Computer Systems, third year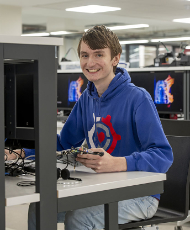 Why did you choose to come to Southampton?
After I visited Electronics and Computer Science (ECS) at a University of Southampton open day, I just knew it was the right university for me. The ECS electronics labs were undoubtedly the best I'd seen at any university and I could really see myself joining the ECS community.
What is it like studying here?
Southampton is a fantastic university with a really friendly atmosphere. My course has constantly kept me interested, and each of my lecturers is incredibly well-educated in the field of electronics. They also perform world-leading research and always speak enthusiastically about the experiments they conduct.
After I visited ECS at a University of Southampton open day, I just knew it was the right university for me. The ECS electronics labs were undoubtedly the best I'd seen at any university, and I could really see myself joining the ECS community.
What are the facilities like?
The ECS electronics labs are incredibly well equipped, with advanced oscilloscopes, power supplies, waveform generators, logic analysers and more. The computer suites are filled with lots of powerful computers, the monitors are high-resolution and there are plenty of ultrawide and dual-monitor workstations available too. 
How did you become part of the UK Electronic Skills Foundation (UKESF) scheme?
I applied for a UKESF Scholarship with Qualcomm and joined the Power Management Unit Team at Qualcomm Cambridge. Through the UKESF's Scholarship Scheme you complete high-quality work placements with innovative electronics companies and undertake engaging electronics outreach work with young people. 
It also includes great networking opportunities, an annual bursary of £1,000 and a paid-for place at the UKESF's Residential Scholars' Workshop. 
How have you benefited from the scheme and how will it help you in the future?
I learnt so much through my first work placement at Qualcomm, massively improving my familiarity with various aspects of the Cadence Virtuoso Analogue Design Environment (ADE). 
It was the first time I'd worked for a multinational telecommunications corporation, so I had to quickly adjust to Qualcomm's company culture and grow familiar with their cyber security and company confidential information (CCI) practices. 
Completing my undergraduate internships will undoubtedly come in useful when I am apply for competitive graduate roles in the electronics industry. The experience I continue to gain from my work will prove invaluable as there are always key differences between learning theory and applying that theory in the workplace. 
What are you enjoying most about your course and what have been the highlights of your time at Southampton?
The MEng Electronic Engineering with Computer Systems programme at Southampton is a highly practical course, and there's always more practical skills to learn. I'm particularly interested in each of my course's telecommunications and integrated circuit design labs. 
My highlight so far has undoubtedly been our Year 2 design project. We worked closely as a team to design different integrated circuits using schematic design (S-Edit) and layout design (L-Edit) software packages. Our circuit designs were then all exported to the Taiwan Semiconductor Manufacturing Company (TSMC) to be fabricated using TSMC's 0.18-micron process. Our chips were shipped back to Southampton so that we could thoroughly test them, to ensure that our circuits met each of their key performance requirements. 
Soon after, I applied the various integrated circuit design skills I developed during this project through a 14-week internship with Qualcomm, as my internship also focused on integrated circuit design and simulation. Both my design project and internship experience led to me eagerly choosing the module ELEC3221: Digital IC and Systems Design in the third year of my degree. 
What is Southampton like as a place to live?
There are lots of things to do in Southampton, so your university life needn't be all work and no play. You can visit the SeaCity Museum and learn all about Southampton's maritime heritage, from the Mayflower to the Titanic; or visit the Solent Sky Museum and learn all about the history of aviation in Southampton and the vital role the city played in the Battle of Britain. 
You can also explore Southampton Common, Southampton's Roman walls and all of the shops in Westquay. 
What do you plan to do once you graduate and how will you use the skills and experience you have learnt at Southampton?
I'd like to undertake a challenging graduate job in the electronics industry and work towards becoming a chartered engineer through the Institution of Engineering and Technology (IET). 
All of the electronics content I have covered throughout my course gives me a solid knowledge base for graduate jobs in the electronics industry, both in the present and for years to come. I've also significantly improved my leadership skills by featuring on the committee for various university societies, including the Electronics and Computer Science Society, IET On Campus Southampton and Southampton's Student Scout and Guide Organisation (SSAGO).