Monika Surynt MEng Electronic Engineering, fourth year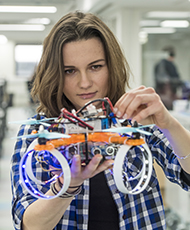 "Moving to Southampton was a big jump for me as I was switching from full time employment to a full time education. However there was a great deal of support provided by the university; they were able to provide all information I needed and everyone was very friendly and helpful."
The University provides one of the best engineering degrees in the UK, especially electronics, which is rated as best in the country.
You learn a lot and it is lots of fun
"I really enjoy studying here as I have met many inspiring lecturers, there are so many different societies available and the campus area is so beautiful. Although I love trying the different societies, the most interesting parts for me are the projects integrated with my course. You learn a lot and it is lots of fun as well."
Foundation Year
"I took a Foundation Year before my degree – during this I learned a lot about engineering subjects. It was a great help in preparing me for my degree as the tutors went far to make sure the topics were covered clearly and with sufficient detail."
Southampton is full of choices
"Southampton is full of choices, there is anything for anyone. It is very busy but not an overly busy city. I also adore the area: you can find almost anything here from busy streets and shopping centres to amazing seaside or forests, and it has the sunny weather."
Grow and improve
"If I could choose one word to sum up my experience so far, I'd have to say "exciting". My journey here has helped me to grow and improve in terms of academic knowledge and also personal development and skills. The University gives a fantastic opportunity to pick from many modules outside of the core subject – I am interested in taking a language module next year."