Olivia Ojuroye BEng Electronic Engineering 2015; PhD in Smart Textiles for Wearable Technology and Industrial Applications 2019
Product Specialist at The Wearable Tech Hub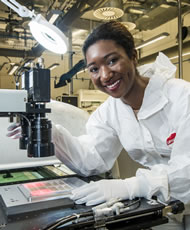 "I wanted to do my PhD research at Southampton as I already considered it a second home. I had previously completed my BEng Electronic Engineering degree in Electronics and Computer Science (ECS) so I was aware how ECS is arguably one of the most accomplished research-led departments for technology in the UK.
Every day of research is a world-first, I am witnessing confidential engineering work on a daily basis
Hugely supportive
"They are strong at supporting students' technical needs and have spent millions of pounds refurbishing the department to meet the needs of their students.
"My PhD is in the area of smart textiles and I enjoy the fact that I am helping construct a new industry that fuses electronic engineering and textiles. Every day of research is a world-first, I am witnessing confidential engineering work on a daily basis. I am working in an industry that I feel very passionate about, I really enjoy what I do and I feel happy when I show up to complete my research. We are exploring ways in which we can make textiles more than an aesthetic part of our lives – how we can become portable computers in the most unobtrusive way.
Creative outlet
"One of my highlights at Southampton has been working in the University radio station, Surge Radio. It has helped me nurture and develop my creative skills even more. I was awarded a media prize for my audio and filming work at Surge Radio, and this showed me that some of my technical interests could be applied to a different industry too.
"In the future I would like to craft my career around my PhD research and the skills I gained from my undergraduate degree. I feel that the smart textiles/wearable technology fields are going to increase in their international reputation, academic credibility, and commercial appeal during the next ten years and I would like to contribute to that either as an expert consultant, by forming my own business or working with or for a business that has the same work/life ethos and ambitions as me.
"In the long-term I would like to be a key influencer, contributor and disruptor in the smart textiles industry - to be a voice of the industry."
Surprising opportunities
Law with software engineering? Neuroscience with electronic engineering? Robin Johnson and Olivia Ojuroye talk about the unexpected subjects they were able to to study as part of their degree.