Rebekah Endersby MEng in Electromechanical Engineering, 2017
Power Systems Engineer at National Grid (Electromechanical Engineering is now known as Mechatronic Engineering)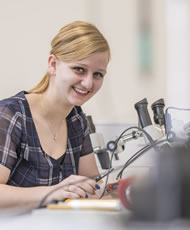 "I chose to study at Southampton due to the great reputation the University has for electrical and electronic degrees. When I visited for an open day, I was impressed with the facilities, the opportunities in industry and how welcoming the lecturers were. It made choosing to attend Southampton easy.
I would love to see the gender gap in engineering shift as more girls consider maths and physics as a rewarding and exciting career prospect
Practical challenges
"I really enjoy the amount of practical work that is involved in my degree. Almost all the theory we have learnt in our lectures has been applied in the laboratories and this has made the learning experience more complete. The labs have recently been refurbished and are a great working environment.
"The lecturers are also very supportive and are an incredible strength. I couldn't have accomplished my third year project without the support of my supervisor.
Renewable energy
"My study focuses on power engineering. Renewable energies are becoming an ever-increasing presence in our electricity network so it is important that power engineering is studied to ensure that power systems evolve with the changes in generation.
"As part of the Power Academy, I have had two summer placements so far and they have been invaluable. I will do another placement with them this summer. These Power Academy placements are not offered in every university and another benefit is they also part sponsor your degree.
Great experience
"Southampton is an excellent university that looks after its students during their degree and sets them up for a rewarding career.
"After I graduate I would like to join the National Grid and continue to work within Power Engineering as a chartered engineer.
Changing times
"I would love to see the gender gap in engineering shift as more girls consider maths and physics as a rewarding and exciting career prospect. I would like to promote engineering and see applications to study degrees increase from both genders."