Sanaz Yeganefard MSc in Software Engineering 2009, PhD in Computer Science 2014
Technology Innovation Manager Santander UK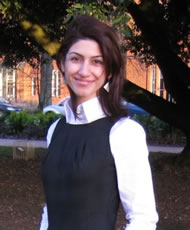 Sanaz has recently been highlighted for her dynamic impact in industry through a TechWomen100 award.
I chose to do my PhD at ECS because I had a positive experience of the school during my MSc and enjoyed being part of it.
I help Santander be the best bank through application of emerging technologies. I work with different teams both internally and externally, such as startups and 3rd parties to identify and apply innovative technologies in the bank.  Currently I work on Digital ID to empower our customers to identify and verify themselves quickly and securely, while putting their privacy at the heart of a technical solution.
Studying at Southampton
Going to conferences and workshops while I was studying was an incredible experience, because they were almost like a treat at the end of a few months of hard work. More importantly they enabled me to share the work with the wider tech community by writing about it in papers or posters and presenting it.
I enjoyed going to multiple countries and meeting people with great minds and getting their feedback. In 2012 I went to Marktoberdorf Summer School for 2 weeks. It was a fantastic learning opportunity, alongside meeting new people and experiencing Bavaria.
During my time at the university, the support of different lecturers enabled me to assist them in lectures and labs, which helped me develop technical and non-technical skills, for instance by explaining complex topics to undergraduate students or reviewing MSc level courseworks.
Living in Southampton
I really enjoyed life around university as there was always something to do. I started new hobbies while at university and I've continued with some to this day.
I met amazing people most of whom I'm still in touch with. The support network was great and I had so many opportunities to explore things outside of my PhD. For instance I mentored MSc students, which gave me a great skillset in coaching and supporting others to achieve their goals.
My advice to new PhD students
Don't forget the importance of soft skills and develop them as much as you can, especially if joining the industry. For instance improve your communication skill by presenting to non-technical audience.
The importance of my PhD in my current role
My work is not directly related to the topic I studied, but I've applied many learnings from my PhD. Most importantly is the ability to develop a thought and a concept into a tangible tech application.
Having a PhD has helped me work best in innovation and emerging technologies as I'm able to think outside the box. It gave me skills that I still use; such as analysing and researching new techs in order to assess them and make recommendations.
My current role
I love my job. On a daily basis I need to understand new technologies which challenges my mind and helps me grow. The flexibility and autonomy that I have in my daily tasks have enabled me to be creative and an innovative thinker and applier of technologies to solve customer problems.
Tips to current students looking to start a career in computer science?
In the world of IT and computer science the learning never stops, so learn as much as you can! It is a fast-paced industry which makes it also fascinating, because no one knows where exactly technology will take us in 10 years' time.
Be curious and have an interest in the field while focusing on a career path that suits you.