Electrical and Electronic Engineering Laboratory
Level 2/59
The space in zoned into five areas A-E.
Zones A-C: General purpose teaching space
These contain a new bespoke lab bench that will accommodate the standard test equipment (3xPSU, Oscilloscope/Logic Analyser, Digital Bench Multimeter and Arbitrary waveform generator) alongside a modern PC with dual 27" monitors.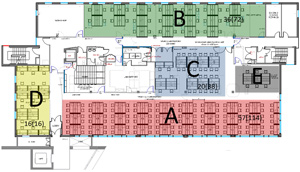 Bespoke laboratory bench video
In total there are 112 benches kitted out with the following:
2 x TTi EL302R PSU (Linear regulation: 0-30V/2A)
1 x TTi EL155R PSU (Linear regulation: 0-15V/5A)
1 x Mixed Signal Oscilloscope (200MHz, four analogue/16 digital channels)
1 x Hameg HMC8012 Digital Multimeter
1 x Arbitrary Waveform Generator (50MHz, Dual channel)
1 x High spec PC
2 x Dell U2715H 27" QHD Monitor (2560 x 1440 resolution)
1 x Saleae Logic Pro 8 Logic Analyser
Zone D: Machine Sets
This area contains 16 benches dedicated to Electrical Engineering experiments.
Zone E: Interactive Teaching Area
This area is used for project presentations, pre-lab lectures, live demonstrations of practical tasks and a range of other interactive approaches for staff and visitors