Xiaoqing (Sally) Shi BEng in Electronic Engineering, 2013, PhD in Electronic and Electrical Engineering, 2018
Innovation Project Leader at the Technology Innovation Management Team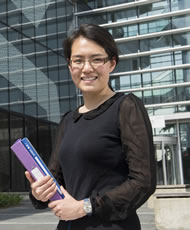 At TWI I am responsible for delivering bids for public funding, including programmes such as Innovate UK and European Commission's Horizon 2020. I work closely with researchers and engineers at our research institute to develop the project concept, fit to the appropriate call, build a consortium of UK and European partners, liaise with industrial and research partners to gather information for the preparation of public funding proposals and manage experienced writers to deliver winning proposals
Southampton has one of the premier cleanrooms in Europe, which enabled me to carry out cutting-edge experiments and generate novel results. The university also has world-leading researchers and academics to guide the way and an international reputation.
Studying at Southampton
I was attracted to study at the University of Southampton because the university's academic performance and student life both really stood out for me. My department ranked top in the UK for its research performance and I used state-of-the-art lab facilities on a daily basis.  The teaching staff are knowledgeable and friendly and my PhD supervisor was so supportive.
I had so many highlights during my time at Southampton, but one of my proudest accomplishments was graduating in summer 2013 with a 1st class honours BEng in Electronic Engineering. I loved it so much that I stayed on and did my PhD with very promising results: I published in international journals I also travelled and attended various European and international conferences reporting novel results that I achieved during my PhD.
I entered the Three Minute Thesis (3MT) competition in 2016; I was Runner-up in the faculty heat and won the People's Choice Award.
I have a great passion in communicating my knowledge and research so I enjoyed being involved in the University's outreach activities. I delivered workshops and taster sessions about my research to visiting schools and colleges, which enabled me to practise and improve my communication and teaching skills.
Living in Southampton
I loved the fact that Southampton is a campus university, with bank branches, post office, hair dresser, shops, health services and even a cinema all on site. It is so convenient and allowed me to stay focused during the term time. The student union is very active with more than 350 societies and clubs covering hobbies, subject interests and sports, so there are lots of opportunities to meet new friends and try out activities alongside your study.
Southampton is only just over an hour away from London and has excellent public transport links straight from the university to major airports. It makes flying home during the holidays very easy. Southampton is surrounded by lovely countryside and historical coastal cities like Portsmouth, Bournemouth and Brighton so there are lots of interesting weekend getaways close by.
Moving from my PhD to my current role at TWI
My PhD was funded through the EU FP7-ICT programme; I was part of a big 16-partner consortium. It was the prestige of Southampton Nanotechnology and Nanoelectronics Research Group that attracted this project and funding opportunity. I attended multiple annual project meetings and conferences, through networking and working with partners on the project, I gained a good understanding of public funded projects and consortium roles. This helped me in securing this challenging but rewarding role at TWI.
High quality communication skill was key in securing my current role: during my PhD, I developed verbal communication skills by participating in various competitions, including the 3MT (People's choice and runner up awards at faculty level) and STEM4Britain (represented UoS at Parliament for this prestigious event). I also confidently delivered presentations at multiple international conferences. I have honed written skill via publishing 1 book chapter and multiple journal papers. Without the excellence of the experimental work supported and guided by my supervisor and the state-of-the-art cleanroom laboratory, these will not have been possible.
During my PhD, I took on various responsibilities within the department and the university, including lead student ambassador, head guide for department's recruitment and admissions, demonstrator in various modules and workshop leader for public engagement and outreach events, etc. My supervisor has always been in full support for me to pursue and excel in these roles, where I have developed transferrable skills including leadership, time management, organisational skills and team working skill. These skills along with my highly regarded PhD make me highly employable on completion of PhD.
I am very lucky that my job combines all my skills, strengths and interests developed from my past studies and extra-curriculum activities. It is very fast-paced and intellectually stimulating which I really love, every day is different and I can always learn something new. The role is very challenging, but it brings in funding to enable many great technology and innovation to happen at TWI, which is very rewarding too. I have also gained industrial exposure and business development experience, allowing me to develop and progress my career in management direction in the engineering and technology sector.
My tips to current students
Do not worry if you do not know instantly what is a RIGHT & PERFECT job for you when you are about to graduate. Starting to search for one's first job can be a very daunting experience; the difficulty does not lie in no options, but the abundance of options. The following two steps helped me greatly in recognising a suitable job that I love. I listed all my experience from work and study (projects that I did during studies) and skills needed and developed for specific tasks, I then found the ones I really enjoyed doing. The second step involves doing extensive research on all possible job options available to you in a desired direction and its future development. This step is essential for you to make an informed choice. Then you can match the job requirements to the skills you are good at and enjoy using.