Sanaz Yeganefard, PhD 2014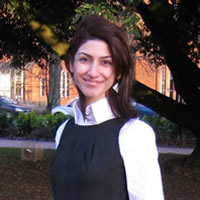 Tech innovator Sanaz Yeganefard, has been highlighted for her dynamic impact in industry through a TechWomen100 award – January 2018. This award recognises successful and influential women that are excelling across the UK in tech roles.
Sanaz completed an MSc in Software Engineering at Southampton in 2009 before developing mathematical modelling techniques for automotive control systems through a PhD in the current Cyber Physical Systems research group.
She has since designed and developed systems for top UK banks, building societies and retailers that have improved productivity and lowered costs.
Read more about Sanaz here.